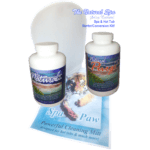 SO EASY ~ Go Natural in your hot tub
Start or convert your hot tub to a chemical free, natural hot tub, with 3 natural products & 5 simple steps.
Purge – Either your hot tub has been running on chemicals or sitting somewhere waiting for a home. If it is "new", most likely it has been stored outside at some point. This means the tub will likely have collected condensation or precipitation. As a result there is very high likelihood that mold or algae has already entered the pipes and pump of your hot tub or spa. So, filling your new hot tub with fresh water or, using the water already in your chemical hot tub, add The Natural Spa Purge and let the pump run for 15 to 30 minutes.
Drain – Allow all water to drain from your entire system.
Wipe- Using The Natural Spa Paw, thoroughly wipe off all surfaces. If you are able to see the contaminants on the Spa Paw. Don't worry that's normal. Most systems will have this chemical residue.
Fill – Using fresh water fill your hot tub to the desired depth and add The Natural Spa.
Wait – Run your hot tub for 15 minutes to ensure the entire surface that comes into contact with your water is covered and sealed with our product.
That's it! You're converted!
Enjoy the skin healing, rejuvenating, feeling of The Natural Spa. We guarantee you'll love the way it makes you feel when you go o'natural!
Once converted, just order and add the correct dose of The Natural Spa for every 90 days of use, to continuing enjoying all the benefits of natural enzyme conditioned water.